Did you HEAR? Netflix is going to start streaming Reading Rainbow TOMORROW.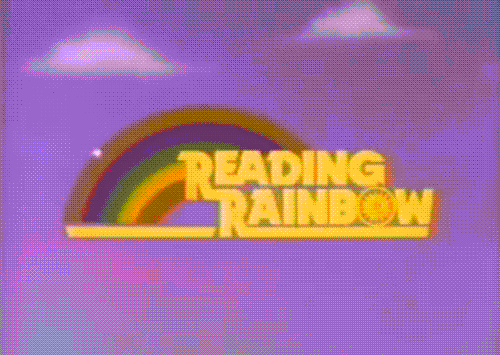 I started pregaming with my kids this week by watching some of the newest episodes with LaVar Burton on YouTube, but all four of us are downright ecstatic for full episodes to be available for binging.
My love of merging books with TV/movies for my kids is no secret. Two of ETC's favorite Netflix "shows" are The Gruffalo and The Gruffalo's Child, and they beg for more! more! more! when I put on the Scholastic stories with books like Bark, George! and Chrysanthemum.
Reading Rainbow will be a total game changer, though. The books and teaching segments on the show are not only nostalgic (third grade, lights off, popcorn with fake-cheese powder on my brown paper towel square), but they are timeless.
Netflix just keeps getting better.
(In case you don't follow me on Twitter, a quick story about a Netflix-related, awesome-parenting-moment milestone Eleanor hit this month: Thanks to the endless Friends marathons Netflix provides once my kids are in bed, Eleanor, who frequently wakes up once a night for a snack, recognized her first Friend by name last week: Phoebe. I am a proud mama.)
As a Netflix Stream Team member, I was provided with a complimentary Apple device, and I receive free Netflix instant streaming service in exchange for sharing relevant topics and messages with you and your family. All opinions expressed on ActualJenny.com are 100 percent my own – those cannot be bought!